If you are worrying for your WordPress website due to loading speed. Where there are many reasons, there may be an older version of PHP. " According to a report that which website takes more than 7 seconds to load. 53% people abandoned visiting to that website." That's Huge cause! That's why you have to learn How To Update PHP Version In WordPress. All WordPress websites are built on PHP, a server-side scripting language. WordPress released several updates ever since it released 1st version.
Kinsta's PHP benchmarks report showing that PHP 7.4 is almost 3x faster than PHP 5.6. Upgrading PHP version is very simple just login your hosting account and with couple of clicks you can do it. There are many WordPress users still running their websites at less than 7.2 PHP version. I think there is no reason to keep an outbound version and put your site at risk. Because WordPress provided easiest way to upgrade, just one or two clicks. Always keep up to date it to avoid malware.
Must upgrade of PHP version and get some important benefits
Newer Version of PHP make your WordPress website more secure.
Improve loading speed of website
Reduce error issues, because better handled by new PHP code
WordPress recommended 7.3 or higher version of PHP for better performance of site.
If using Woo-Commerce then it recommended 7.2 or greater.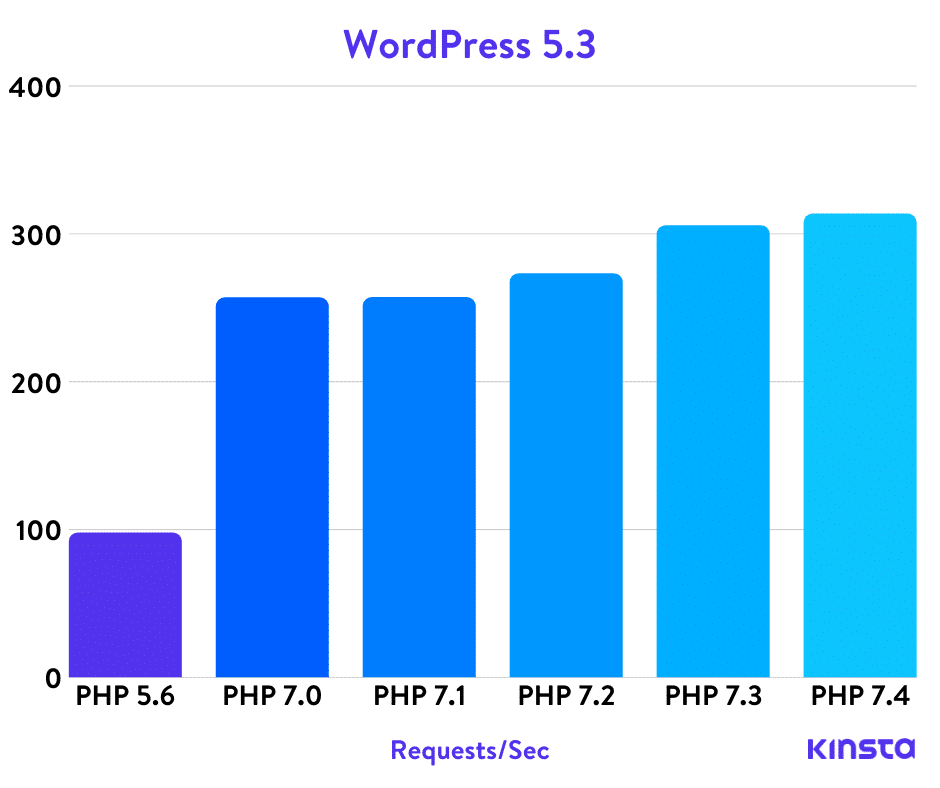 Img src:
Kinsta
Upper statics showing still many people are using older versions
How To Update PHP Version In WordPress
All websites are running with different codes. In old days there was only HTML language codes was used. Today's it mix of HTML, CSS and JavaScript. When you updating PHP version of your WordPress website, it means you are improving your site loading speed. More it also helps protect against hackers. In this article you will learn the ways to update PHP version in WordPress. You can safely update the latest version, without breaking your WordPress site.
With the bellow procedure easily can find and update new PHP Version.
1- Check Your Site Current PHP Version
There are several methods to check which PHP version is running on your website. You can check from your hosting Cpanel, WordPress admin dashboard and site health. Also by installing plugin for the testing of PHP current version.
Check from your site admin dashboard
Login to your WordPress website admin panel and on Dashboard you will see At a Glance
Find PHP version by Site Health
From your admin panel hover to Tools, and click on Site Health
At Site Health click Info then Server
Finding the PHP version by Hosting CPanel
After login to your Hosting Cpanel account, in Software tab click PHP Selector, PHP Settings, Multi PHP Manager or something similar. From here you can check, which PHP version your WordPress website is using.
You can also use the Display PHP Version plugin:
Other Plugin to check PHP version: use anyone from the bellow list
Display PHP Version
Query Monitor
WP Health
Yoast (via notification)
SG Optimizer (for SiteGround)
2- Update All installed Plugins and Themes to Avoid Errors
Doing any changing or update in WordPress, always advised to create backup. Same as here you may need to create a backup for your WordPress Website, it will help to revert back in case any not suitability.
Before upgrading your PHP Version it is good practice to update all your installed plugins and Themes, if there is newer version available. It will will help to reduce errors during the process of PHP updating.
3- Run PHP Compatibility Checker
To avoid any damaged the website and better way to know which PHP version compatible with WordPress. Run PHP Compatibility Checker and conform installed plugins are compatible with newer PHP version.
Note: This checker have not great users reviews and have noticed some crashing issues at websites . So use this checker plugin at your own risk.
4- Update PHP From Your Hosting Account
If you completed upper three process, checking your current PHP version, Updating all installed plugins and PHP version compatible with WordPress. Then now time to upgrade your website PHP version. Upgrading or Updating the latest PHP version from your hosting account slightly different. It is depending on which host provider service your are using.
How To Update PHP Version In WordPress from Hosting Account
Mostly in all hosting providers are common.
Login to your hosting account
Go to Cpanel dashborad
Find the Software Programming section
Find the Multi PHP Manager
Select Newest PHP Version and click Apply button
5- Check Your Websites Errors
To know in practically, after upgrading PHP version, it is common practice to check some pages of your website. Sometimes upgraded version is not suitable with WordPress version, installed Theme or Plugin. If you feel some visible errors or any changing in any page, you have to find where is the problem. Deactivate or uninstall one by one all installed plugins and check error status. Any plugin you find affected to your website, try anyone else plugin. There are many plugins in WordPress library with same functions. May you need to replace temporary theme as well. If you did not find any error, stay on newest PHP Version.
6- Revert to Previous Version of PHP
May you find any Error on your site and you did not solve the issue anyway. Even to deactivate or delete one by one all plugin. Probably you funded the plugin which affected website but you cannot change it due to paid version or any other reason. You will need to revert back earlier PHP version.
To go back old PHP version, simply you can follow same process which you used to Upgrading. Just select your previous PHP Version and apply.
Second option is, you already created a backup before doing all changelings. Run backup that you have and it's all you have done as before.
Summary of the Blog
PHP is the glue that holds WordPress together. This is the main reason to keep always up to date it. It will give the benefit to your site for increasing the speed and security.
Above you learned about How To Update PHP Version In WordPress and why is important to upgrade latest PHP Version.
If you find this blog helpful then do not forget to share it with your friends. Drop a comments if you need some help or you have any issue between all procedure.